We Believe
in Community
Bunzl believes in supporting local communities and their initiatives. We are proud to build lasting partnerships and improve the communities where we operate as well as where our employees live and work.
Bunzl Donates Funds and One Million Masks
Bunzl North America is proud to contribute much needed funding and one million masks to national and local charities and organizations across the US, Canada and Mexico to help with COVID-19 relief and in supporting social justice advocacy efforts. Bunzl takes pride in being able to help employees, customers and their communities in their time of need.
"As an essential business during this unprecedented pandemic, we are doing our part to help the communities in which we operate to respond to COVID and advocate for social justice. The hard work and dedication of our teams across Bunzl has given us this unique opportunity to help numerous worthy organizations," says Jim McCool, CEO of Bunzl Distribution.
Below are some of the organizations Bunzl has supported with funding, as well as links to the organizations' websites:
Bunzl is also proud to support others working on the frontlines during this pandemic. One million disposable facemasks were recently donated by various Bunzl locations across North America to hospitals, schools, homeless shelters, and food banks. One example comes from R3 Metro (located in Perth Amboy, New Jersey), who donated 52,000 masks to the students and staff of Woodridge Township Schools. Other locations, like Bunzl Burlington Canada, donated their masks to a hospital, school and two homeless shelters. Bunzl has also provided masks to all employees and their families throughout the pandemic. Wherever there's a Bunzl branch, there's an opportunity to support the local community.
Bunzl's mission is to provide service of such excellence that customers prefer Bunzl to be their supplier partner regardless of the brand or product they select, and part of that excellence comes from helping the communities in which Bunzl and its customers operate across North America. Bunzl North America serves the US, Puerto Rico, Canada and Mexico with a broad range of consumable operating supplies from 190+ distribution centers. With more than 8,500 employees and 400,000-plus supply items, Bunzl is regarded as a leading B2B supplier in North America across multiple segments.
"Bunzl strives to act with integrity and goodwill towards employees, customers and our community. The company contributes to the community through charitable donations and by supporting green initiatives."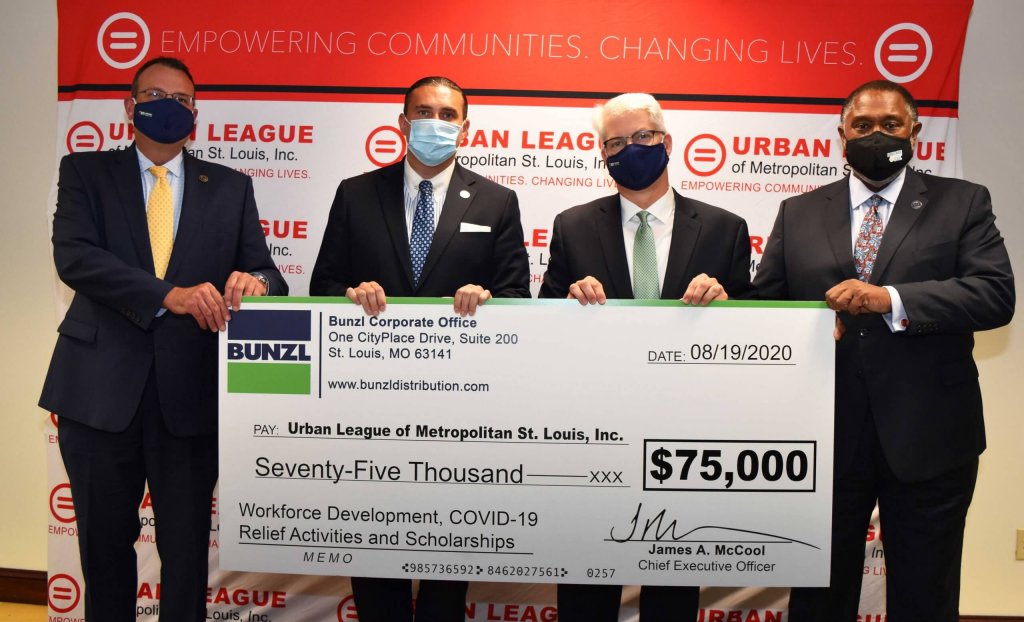 Bunzl's Charity Doesn't Stop There!
All across North America, Bunzl locations are contributing to their communities. Read our highlights of Charitable Donations throughout 2020 and 2021 –
Urban League of Metropolitan St. Louis

$75,000

MLK Day: Non-perishable food and clothes

Mask Up Manatee

Bunzl R3 Tampa donated face masks to the Mask Up Manatee Coalition, an organization dedicated to distributing masks to county schools in Manatee County, Florida.

One Million Masks in NA

Joseph Brant Memorial Hospital in Burlington

Sacred Heart Public School – Burlington

Local school board in Winnipeg

2 Homeless shelters in Winnipeg

Thank you R3 Metro in Perth Amboy, especially Liz Cabrejos and Brian Balint, for your generous donation of 52,000 face masks to the students of Woodbridge Township!

Carolinas and Virginia Market – donating 25 cases to Brenner Children's Hospital and Ronald McDonald House of Winston-Salem

New England – 60 cases are going to Greater Boston Food Bank and 40 cases are going to Boys and Girls Clubs of Boston

Massachusetts Market – 100 cases are going to Sheetz Charities.

Southeast Market – Donated 25 cases

Bunzl Heartland – Donated Hand sanitizer, gloves and masks to Chicago Public Schools

Bunzl Corporate donated thousands of masks to local hospitals, police departments, fire departments and big food banks in the St. Louis area.

Bunzl Mexico donated 25 face shields to local hospitals for every 100 face shields that they sold.

Earthwise Bag Company donated over 1,500 reusable bags to Friends in Deeds, a local non-profit organization in Pasadena, CA. Friends in Deed used the bags to package goods for homeless and at-risk neighbors in their community.

Bunzl/R3 Mid-Central Market – Scott Thompson on behalf of Bunzl/R3 Mid-Central donated safety glasses to the Oklahoma City Police Department to stay safe while they administered COVID-19 testing to individuals in their local community.

Bunzl Scotia donated $10,000 of disposable products to local Regional Food Bank.

The Tampa branch donated foodservice and paper supplies to Metropolitan Ministries in Tampa and Central Care Men's Mission in Orlando. Both of these organizations help feed and house the homeless. Our South Florida branch was able to donate paper supplies to an operation that works with charities in the Caribbean.

FoodHandler BCRF Pink Thinsense Donations – $30,000.

Johns Hopkins Vaccine Trial

Bunzl donated $50,000 to the Johns Hopkins general COVID-19 research fund to support the vaccine research of Dr. Justin Bailey, who works in our Division of Infectious Disease.
Bike MS
Bunzl is a proud sponsor of the Annual MS-150 Bike Race. In addition to sponsoring the race and a pit stop, Bunzl sponsors our own team of riders. Bike MS is the fundraising cycling series of the National MS Society and raises more money than any other cycling event for any other cause. To date, Bike MS cyclists, volunteers and donors have raise more than $1 Billion so people affected by MS can live their best lives as we strive to stop MS in its tracks, restore what has been lost and end MS forever.
Rides throughout the country will take you through the city streets of New York, along the coast of California, through the open fields of the Midwest or the mile-high elevations in Colorado. Route distances vary from 15 to 150 miles, with some rides being a single day and some being multiple days. One thing is certain – you will have the ride of your life!